Intimate Felt Piano
FELT 54 is an intimate felt piano with character, it's not the conventional bright and harmonically complex upright piano.
Stereo sampled from a felt customized upright Yamaha U3 1975 that has been modified in a way that makes the tone more pure, yet preserves its harmonic richness. A 0.8mm felt strip was added between the hammers and strings, and the middle section's tone of the piano was simplified by muting 2 out of 3 strings per note. The instrument was captured by 3 microphones resulting in a very intimate stereo image.
FELT 54 covers a range of 54 notes, the sweet spot range of this particular piano.
Specs: -143 Stereo samples in 44K/24bit -Instrument range: G1 - G6 -5 Velocities per root note -Pedal UP/DOWN samples -Key Release Noise, with infinite Round Robins
Instrument features: -3 EQ Knobs (Low,Mid,High) -Intimate room reverb -Tape Delay (Synced Time, Feedback, Send Level) -Pedal noise and key release noise levels -a Special TAPE module with 3 knobs (Analogue Tape Hiss, Saturation intensity, Flutter intensity)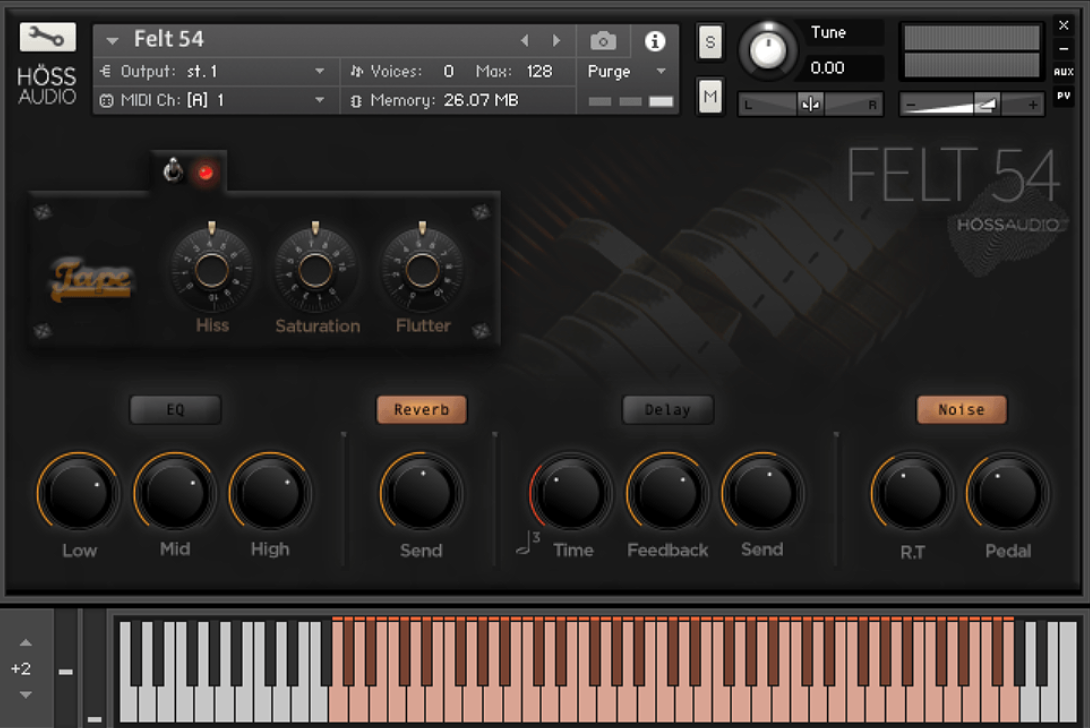 FELT 54 is ideal for Ambient music and Melancholic film scores, as well as LO-FI hip-hop music with the Tape settings driven up.
| | |
| --- | --- |
| Product Type: | NI Kontakt Instrument |
| Use with: | Kontakt FULL 6.5.2 or Later |
| Size: | 0.41 Gb |
| Category: | Felt Piano |